Lower Valley Operational Report: March 2023
As part of Lower Valley's ongoing commitment to transparency in operations in our served communities, we have started producing monthly reports for public safety partners, municipal leaders, and the public.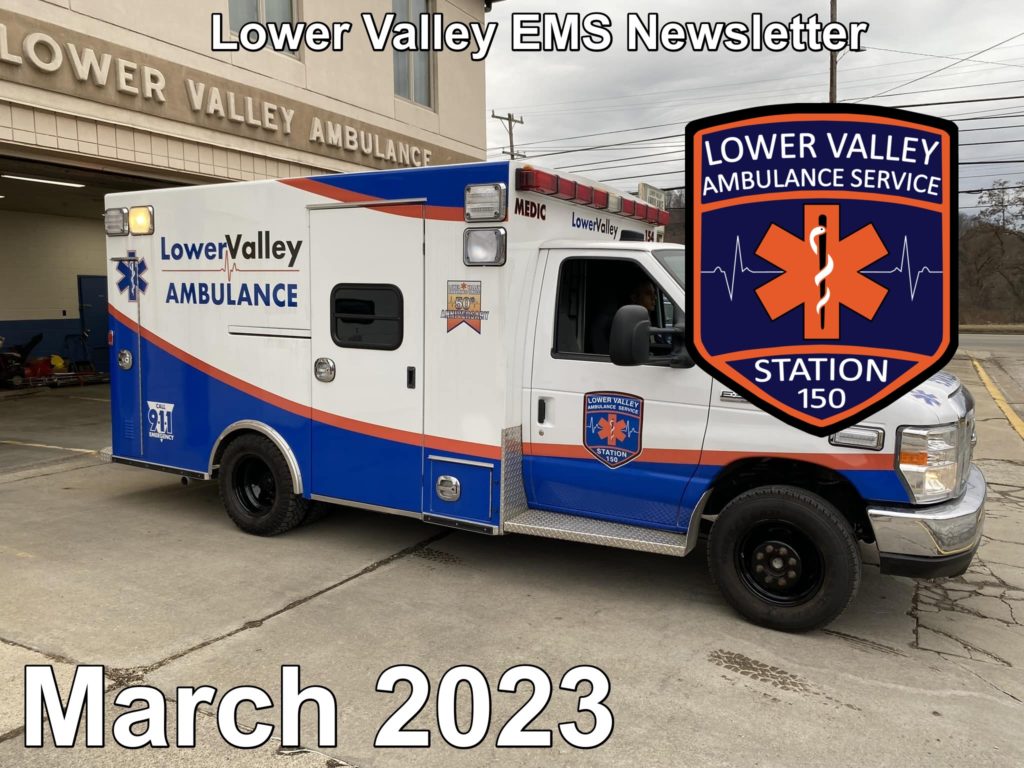 Operations Breakdown
During the month, Lower Valley ceased being the primary EMS provider for the borough of Oakmont. We are saddened to see them go, but wish to thank Oakmont for allowing us to serve their residents for half a century. Still, this change allows us to focus on our other six communities – which has had positive outcomes on response times and staffing. We are pleased to announce we are in a sustainable position; our finances are stable, and we are starting work on a long-term financial viability plan with our municipal partners. Part of the purpose of these monthly reports is to reassure our commitment to transparency going forward.
During the month of March, 2023, Lower Valley serviced:
399 total calls for service
265 emergency (911) calls for service
122 Wheelchair Van Transports
The call breakdown, by municipality, is as follows:
| | | | | | |
| --- | --- | --- | --- | --- | --- |
| Cheswick | Harmar Twp. | Indiana Twp. | Springdale (Borough) | Springdale Twp. | Verona |
| 21 (8%) | 99 (37%) | 25 (9%) | 39 (20%) | 13 (5%) | 41 (15%) |
Total amount of calls and percent of Lower Valley's total emergency call volume.
Lower Valley was assisted by mutual aid partners on 32 calls, or 12% of our total emergency volume, in March. However, this was always due to our ambulances being on other calls, and Lower Valley is never out of service. We aim to keep mutual aid below 15% of all calls, and consider this a good statistic.
We also serviced municipalities served by other EMS providers when responding as their mutual aid:
Blawnox Borough – 2 calls
O'Hara Township – 4 calls
Oakmont Borough – 16 calls*
West Deer Township – 2 calls
Lower Burrel (Westmoreland County) – 3 calls
Penn Hills – 1 call
Plum Borough – 1 call
*Note: Oakmont Borough switched EMS providers partway through the month; some of these calls may be before that switch.
Subscriptions
Yearly subscriptions should be going out in May. Check your mailbox for when they arrive.
Thank You
And most of all, a sincere thank you to our residents who continue to support us every day. Without you, we wouldn't of have made it these 50 years, and we're hoping for another 50 of continued service.
Should any resident have concerns, questions, or comments, we welcome them! Please call our office at (724) 274-4155 during normal business hours.
For any emergency, dial 911.